| | | |
| --- | --- | --- |
| | | |
| | | | |
| --- | --- | --- | --- |
| Poster: | He Live's | Date: | Jun 29, 2008 8:20pm |
| Forum: | GratefulDead | Subject: | CAUTION |
"Caution (Do Not Step on Tracks)" was played by the grateful dead, AND captured on tape, approximately 62 times. a studio recording was made on 11/3/65.... there is a recording from 1966, supposedly from the Ivar Theatre, in LA and then it was performed 42 times from 1967 to 69 as part of the group's regular repertoire. the usual pairing with ALLIGATOR, made perfect sense -- after the unhinged psychedelic lunacy of ALLIGATOR, where else to go but onward, outward and MORE CRAZY STILL!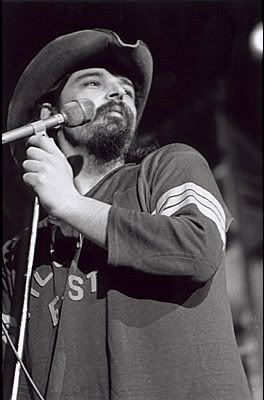 along with Lovelight, Caution was a song very dependent on Pigpen's raw energy. his harmonica playing was crucial to the texture of the song: A PRIMAL WAIL if ever there was one. IN FACT, there really isn't much to the song other than ENERGY. there is the strong pentatonic bassline that drives the song and the bluesy surf-toned guitar from Jerry, the drums as well, very straight ahead and driving -- it is the sound of nothing less than FORWARD MOMENTUM -- the best versions are edge-of-your-seat, unrelenting, hot and sweaty excursions into the rawest blues drenched psychedelia the band can conjure. it is an overused term to be sure -- but Caution is at the very heart of "PRIMAL DEAD."
I went down one day, I went down one day to see a Gypsy woman,
Just one old day, yes I did,
I want to find out, I want to find out,
I want to find out, I want to find out now,
What's wrong with me and my baby.
We ain't gettin' down like we used to do,
I mean it's pretty good now, but there was a time,
When it didn't work too well.
I went down to see this Gypsy woman, you understand,
I told her my story, I told her what was goin' on.
And she told me, man she said, all you need, all you need,
She said all you got to have, oh Lord,
Just a touch of Mojo's hand, oh bring it back on,
And it feels pretty good, yes indeed.
when THE DEAD played Caution it was as if some sort of maniacal beast was being unleashed -- you get the feeling there are NO RULES anymore -- Caution children, anything goes.... most of the versions are worth hearing and Alligator>Caution, is always, in my book anyway, a dead show i want to hear.... try
August 23, 1968 at the Shrine
on for size if Caution isn't usually your cup of tea.... or maybe 1969 is more to your liking, try
the Fillmore West, March 2
.... WOW! what a show!
the song seems to have fell out of favor at the end of 69 appearing for the last time that year on December 12 at the Thelma Theatre. it was trotted out again for the January 1970 Fillmore East run and then again for the legendary February run at the same venue. perhaps at Bill Garham's request it was played for ONE TIME ONLY on the West Coast in 1970, April 10 at the Fillmore West, the last west coast version with Pigpen. it was played one final time in 1970 at the Capitol Theatre on 11/6.
the song then seemed to disappear entirely, perhaps due largely to the decline of Pigpen in 1971. it was played only one time that year, at the
Fox Theatre, St Louis on March 18.
DO NOT MISS THIS VERSION!
the song came back strong for the Europe 72 tour, Pigpen's last great Hurrah! it was played 6 times in Europe, with THE LAST PIGPEN-lead effort occuring on May 11, 1972, Rotterdam, The Netherlands.
| | | | |
| --- | --- | --- | --- |
| Poster: | Cliff Hucker | Date: | Jun 30, 2008 6:09am |
| Forum: | GratefulDead | Subject: | Re: CAUTION |
I don't know how Caution can be discussed without mentioning the 30+ minute monster from 6/14/68...
"This is primal Dead and one of the best sets circulating from any year...There are numerous Caution teases in Lovelight, and the shift from one to the other is almost imperceptable. After 9:00 into Lovelight much of the time Caution and Lovelight are happening simultaneously (shades of Charles Ives!). Jerry sounds the introductory Caution flourish pointedly at 10:06 but the band doesn't follow. He tries again much more emphatically at 10:32 and this time and this time they round the corner."
Jim Powell
I'm not 100% certain, but I believe this Caution is on the bonus disc that came with the Fillmore box...
http://www.archive.org/details/gd68-06-14.aud.cotsman.16532.sbeok.shnf
| | | | |
| --- | --- | --- | --- |
| Poster: | William Tell | Date: | Jun 30, 2008 8:18am |
| Forum: | GratefulDead | Subject: | Re: CAUTION: Saint Stephen is unreal |
This show also contains my all time favorite StSt--favorite for its amazing energy and Jerry's work in an extended "wrap-up" sequence that most clearly parallels the Aoxomoxoa sound.
Too bad it sounds like it was recorded underwater from the room next to the hall. But, put your early era filters on, and it grows on you, as noted by all the reviewers.
Here's a nice one:
"This kind of recording is the payoff for being a hardcore deadhead. It's as though you've been handed a secret that gets passed about in shadows and only acknowledged through nods. The band doesn't just open, they open the Maw of Time and push you in. Even on this dirty distorted hand me down tape, the impact pulses through. Perhaps it's because of the lo-fi that I love it so much, but a crappy recording of a great show aces the inverse. The Caution is a bit too much to take and the feedback inevitable. In the end there is no gentle let down back to earth, no lullaby or singalong. There is only the humming of your cells reconstructing themselves back into a familar form that differs in some intangible way...
I can't imagine how many destinies this little show changed.
Highly recomended
Use wisely"
| | | | |
| --- | --- | --- | --- |
| Poster: | William Tell | Date: | Jun 30, 2008 7:27pm |
| Forum: | GratefulDead | Subject: | Re: CAUTION: Saint Stephen is unreal |
Wow! I did not know that...good to know.
Thanks, shark hunter. I still say, "be careful."
But, happy fishing.
| | | | |
| --- | --- | --- | --- |
| Poster: | He Live's | Date: | Jun 30, 2008 8:37am |
| Forum: | GratefulDead | Subject: | Re: CAUTION |
ALRIGHT! cliff and WT are on board.... and you did not disappoint -- of course i've never heard this one before.... and this AUD is very listenable.....
this looks like a MAMMOTH JAM indeed.... i have the caution streaming right now and the energy sounds like it is through the roof.....
peace and good will to all (well, you deadheads anyway)
| | | | |
| --- | --- | --- | --- |
| Poster: | Dhamma1 | Date: | Jun 30, 2008 3:10am |
| Forum: | GratefulDead | Subject: | Re: CAUTION |
Here's Phil's account of where Caution originated, from Searching from the Sound (page 91):
"Soon after our move [to Marin Co. in 1966], we received an offer to play three days of a 'Trips Festival' in Vancouver, British Columbia. It seemed like a good opportunity to bring our music to a new audience, since we'd been preaching to the choir, so to speak, for a while now. Since we couldn't afford to fly, the band took the train, leaving Oakland one morning and arriving the next day, while the gear drive up in a truck. While on the train, we took smoke breaks in the only place where a we could have a little privacy: the open vestibule between the cars. At one point, we were standing out there entranced by the rhythm of the wheels clickety-clacking over the welds in the rails; Billy and I looked at each other and just kenw -- we simultaneously burst out, 'We can play this!'
"'This' turned into 'Caution (Do Noy Stop On Tracks),' one of our simplest, yet farthest-reaching musical explorations. Based on the train rhythm, it had only one chord and was played at a blisering tempo...
'At the next moment, the train lurched, and Jerry, who was standing near the exit, lost his footing and started to fall! Outward! Quick as a mongoose, Bobby reached out and grabbed his shirt, pulling him back into the car just as another train roared past in the opposite direction at a closeing speed of what seemed like two hundred miles per hour. Whew!"
| | | | |
| --- | --- | --- | --- |
| Poster: | He Live's | Date: | Jun 30, 2008 8:32am |
| Forum: | GratefulDead | Subject: | Re: CAUTION |
thanks for adding that in -- i have read the book but i dont remember this anecdote -- really sweet -- the song IS SO SIMPLE it's great to have this story to go along with it......
| | | | |
| --- | --- | --- | --- |
| Poster: | Arbuthnot | Date: | Jun 29, 2008 10:17pm |
| Forum: | GratefulDead | Subject: | Re: CAUTION |
great summary, very much appreciate the work you put in on this, though i gather given your attraction for the song in question, it was indeed a labor of love; it is also a favourite song of mine as well, as most Pig songs are; i was giving listen to two versions yesterday, both of which i found quite interesting; the first is the version from the Academy of Music from 3/22/72 that was released on the bonus disk for Rockin' The Rhein ... i found this version to be more lively and less hectic than the '68 & '69 versions, but absolutely wonderful, in fact i'm thinking top 5 for me anyway, though i've never really done a complete comparison of all the versions; the 2nd version i recently listened to, and which i urge every man woman and child to stop what they are doing and give it a listen, is the 2/22/68 version from the King's Beach Bowl show up at the Tapers Section over on dead.net, in fact, listen to the entire jam ... it is, quite simply, stunning
http://www.dead.net/features/tapers-section/february-12-february-18-2007
a final word of advice ... proceed with caution!
This post was modified by Arbuthnot on 2008-06-30 05:17:53
| | | | |
| --- | --- | --- | --- |
| Poster: | He Live's | Date: | Jun 29, 2008 11:30pm |
| Forum: | GratefulDead | Subject: | Re: CAUTION |
hey arb!
glad you weighed in..... to be honest -- this is a song that puzzles me a bit. i like it indeed, "Caution" holds a very unique place in the dead canon. it appears over time in the form of the "caution jam" or worse, the "caution tease"..... and that is how i came to it.
like, what is this "caution" business all about i wondered.... the jam where phil plays the basic blues bassline and jerry wails away? at first it did not seem that special to me.
but as i got more into the early dead (67-69) i sort of "got it" a little more.... i began to see where it fit in. where Lovelight sits snugly in its place, an R&B/bluesy romp -- Caution lands in different territory -- bluesy yes -- but more -- it is some sort of completely unhinged type of PSYCHEDELIA.
to the casual observer, psychedelic implies Marshmallows, Strawberry Fields, and Orange Sunshine -- to me anyway, Psychedelic implies a complete reshaping of known quantities -- taking something and turning it askew and looking at it with fresh eyes.
with Caution the band was able to tap a VERY RAW energy -- a sort of Shamanistic Blues energy -- like maybe you would have found in the deep south in the first half of the 20th century. INDEED, i think the energy at play here is slightly dangerous stuff -- there are elements of VOODOO if you will....
it took awhile -- but i see it now -- why, when in the later years when they tugged at this old, common, bluesy riff they were summoning a more complicated energy.
as far as my effort involved here -- it wasn't much. you could write a book on it -- i was hoping PEOPLE EXACTLY LIKE YOU would weigh in with their thoughts -- i was just throwing out a TEASE.
cheers!
This post was modified by He Live's on 2008-06-30 06:30:31
| | | | |
| --- | --- | --- | --- |
| Poster: | Arbuthnot | Date: | Jun 30, 2008 8:24pm |
| Forum: | GratefulDead | Subject: | Re: CAUTION: Let Us Not Forget 1/20/68 |
the lateness of the hour last nite when i posted my reply above, caused me to not mention another one of my favourite versions of Caution; in fact, you could say that it's the version that woke me up to the song, and began my search for other versions which had the same or greater intensity; because you see the version i speak of is probably the shortest live version recorded, and yet, it's a power-house of feeling and screaming psychedelic guitar and driving bass & drums, but sadly an abbreviated version of what was to come in the following years; still, it ranks very high on my list of fave Cautions, and is more often than not the version i reach for when i want to feel like breaking something, or really, just getting that feel of the early Grateful Dead, where possibilities truly were limitless, and as a listener you really feel it, oh yeah! in fact, you might even say this short set/show is just really one long jam with the obligatory vocals thrown in here and there; i love it, and is just a 33 minute reason why early GD, when you get down to it, is really where it's at:
http://www.archive.org/details/gd68-01-20.sbd.jools.19470.sbe-fixed.shnf
Shark Hunter gives it 5 gold coins!
| | | | |
| --- | --- | --- | --- |
| Poster: | Cliff Hucker | Date: | Jul 1, 2008 8:52am |
| Forum: | GratefulDead | Subject: | Re: CAUTION: Let Us Not Forget 1/20/68 |
This Caution sounds like a locomotive speeding towards a crossing where a station wagen is stuck on the tracks, and you just know the impending tragedy is unavoidable...
| | | | |
| --- | --- | --- | --- |
| Poster: | He Live's | Date: | Jul 1, 2008 8:51am |
| Forum: | GratefulDead | Subject: | Re: CAUTION: Let Us Not Forget 1/20/68 |
short but sweet, no doubt.... and it kicks off with a CLEMENTINE too! so Allmansey -- Elizabeth Reed -- funny, the dead played so little in 3/4 time -- in fact, what is there other than El Paso? they played more in the really odd times 7, 11, and of course... 10!
| | | | |
| --- | --- | --- | --- |
| Poster: | deadmax | Date: | Jun 30, 2008 2:31am |
| Forum: | GratefulDead | Subject: | Re: CAUTION |
I, too, have come to really appreciate this song and your descriptions catch it perfectly. It seems as if Phil nods to Jerry saying "are you willing to go there?" If Jerry says "yes" then we are on the cosmic roller coaster Caution.
I'd like to hear the story of why they didn't at least try to keep is as a jam after Pig couldn't do it any more.
I've been listening to A LOT of 66 to 71 lately and I have not been let down by a Caution yet. It's as if Phil is trying to catch Jerry while Jerry is trying to catch Phil and no place in the Universe is off limits.
Good call